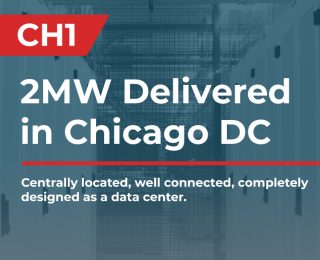 "Use of breakthrough innovative data center management system, InCommand™, provides customers with in depth control of data center assets."
Server Farm Realty, LLC (Serverfarm), the global expert in data center real estate and operations, announced today it has delivered 2MW of power within their 840 South Canal Street, Chicago data center and they are in the process of building out another 2MW.  By leveraging their collaborative build/ops approach to design and construction and the InCommand system, the team was able to mitigate the operational risks associated with mission critical deployments in live environments.
"Our Chicago data center is a major connectivity hub with an extensive telecommunications network.  It offers cutting-edge infrastructure and technology management through InCommand as well as plenty of room for expanding businesses," said Mario Calderone, Vice President of Real Estate, Serverfarm.  "InCommand provides detailed information on electrical, mechanical, and IT systems within the data center that provides full control of all the physical components of the IT infrastructure to all of Serverfarm data center customers." 
Serverfarm offers turnkey solutions for colocation through the complete, data-driven management of physical space.  Their in-house, on-site Critical Facilities Management (CFM) team provide all customers assurance of the infrastructure's security and reliability.  The CFM team uses InCommand, Serverfarm's innovative data center management system, to provide customers with breakthrough management capabilities to streamline staff coordination, customer notifications, MOP approvals, and system monitoring through all phases of the deployment.
Serverfarm's data center portfolio consists of eight data center facilities located in London, UK, Moses Lake, WA; Chicago, IL; Charlotte, NC; Atlanta, GA; Santa Clara, CA; Oak Brook, IL; and Toronto, ON.  
Serverfarm is an expert data center real estate and operations organization that delivers a high level of flexibility and personalization, ensuring clients receive solutions designed specifically to their individual needs now and into the future. Our mission is to maximize data center and IT infrastructure efficiencies by providing a complete approach to managing global data center portfolios.