InCommand DMaaS combines three key areas: trained experts, proven processes, and a highly intelligent portal to give enterprises greater control of their IT and facilities infrastructure. This 3-legged stool approach offers a complete DMaaS solution that goes beyond standard DCIM solutions. DCIM software alone does not support the challenging issues enterprises face in their deployments.
Watch our 90 second explainer video to learn more.
Virtually Walk the Aisles of Your Data Center
View all of your physical IT and data center infrastructure from anywhere in the world.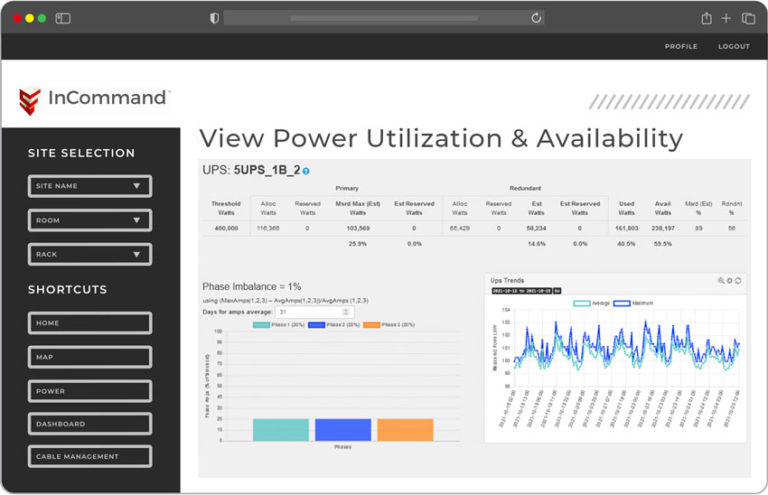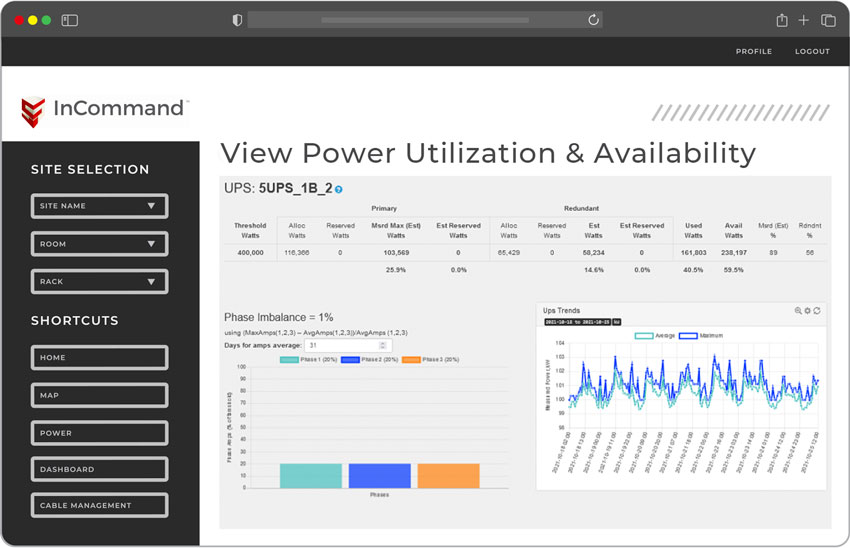 See Your Power Utilization and Availability
Remotely view power capacity reports, snapshots and trends in real time for a selected site, room and/or rack.
Take Automation to New Heights
Using sensors and machine learning-powered algorithms, InCommand DMaaS aggregates data in real time to recommend where your servers should be commissioned. These algorithms ensure no power, cooling or space safety thresholds are breached.
It's not just data center infrastructure management software. It is a complete solution including staffing to augment your team, training to ensure accuracy, certified change governance procedures, remote data center engineers to service unmanned sites, and an on-call 24/7 service desk.
InCommand Enables Innovation at Scale While Saving Enterprises Millions
InCommand DMaaS takes all physical assets in IT, facility and data center environments and presents them as a virtualized service. Winner of multiple innovation awards, InCommand combines data center management expertise with an evolving cloud-based software solution to maximize enterprise infrastructure assets.
InCommand DMaaS combines a highly intelligent, flexible portal with clarified, proven processes and an expert team to help enterprises gain control over their IT and facilities infrastructure.
Bringing together people, processes & Portal
Time saved for busy C-suites and IT teams
Efficient and sustainable IT operations
"No other solution we evaluated provided data center infrastructure management as a service, streamlined workflows, asset lifecycle management, data, and power connectivity for every device and capacity planning algorithms we required."
"Implementing InCommand resulted in $22,000,000+ in savings, reduced turnaround times, and improved quality of service."