What is the InCommand DCIM IT Portal Solution?
InCommand DCIM IT combines an award winning, full featured infrastructure management cloud portal with a sector leading services portfolio backed by a 24/7 service desk.
The expanding DCIM IT feature set currently contains over 45 valuable features. Scroll down for a full feature set list.
Feature sets include in-depth detail on logs, checklists, tracking, inventory, library, audits, mapping, analytics, impact and what if analyses for management and changes to power, cooling, space, port, cross connect, patch panel, cable, racks, device, capacity, utilization, budgeting and other services. Dashboard presentation is client customizable.
Watch our 90 Second Explainer Video To Learn More
What is the InCommand Service Desk?
The InCommand Service Desk takes ownership of platform installation and support. From day one customer site personnel can focus on change management and capacity planning backed by full web, phone and email support.
Services Desk operational SME's virtualize customer data centers and assist customers with daily portal maintenance and ongoing training to ensure data accuracy and integrity. 
Provides rack elevations, room and rack layouts, searchable and sortable asset lists and full asset lifecycle history logs.
Power detail for each Utility, Generator, UPS, PDU, Panel, Rack and Circuit providing a real time view of use and availability.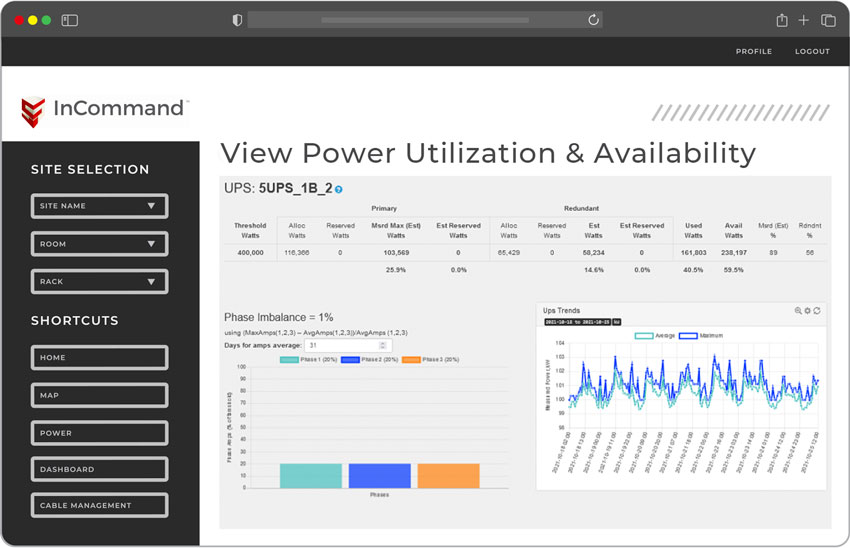 Customizable client dashboards include:
Power utilization and capacity
Rack and RU utilization and capacity 
Commission, decommission, troubleshooting history
IT Port and Cable Management
Maintains a comprehensive list of client cross-connects, switch and patch panel ports servicing your IT assets, including:
Port status (in-use or available)
Identifies port connected devices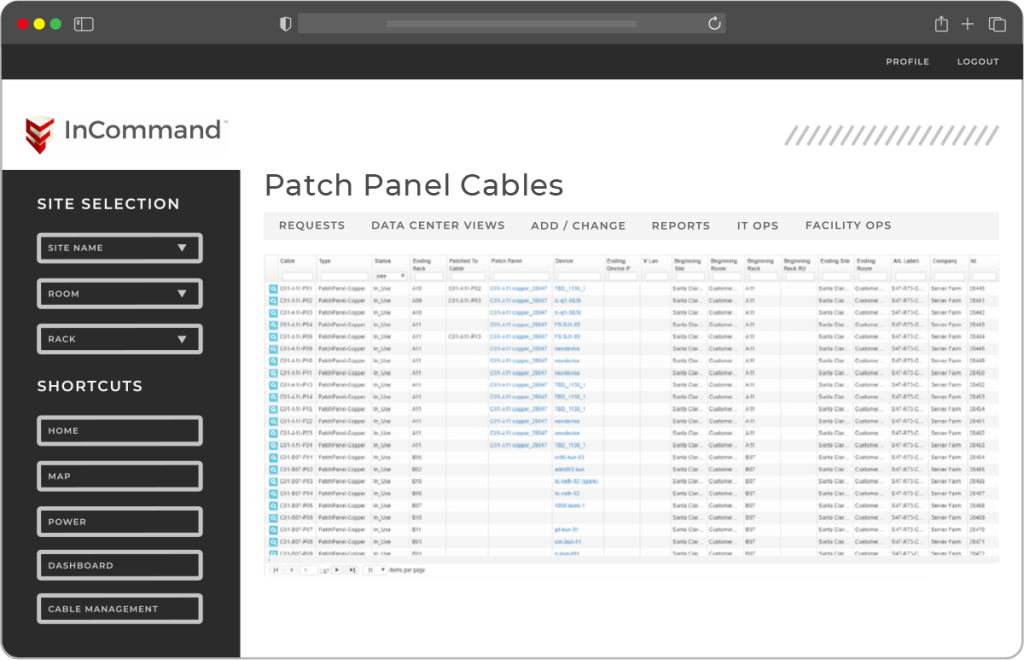 What is included in this DCIM IT offering?
| DCIM IT Module Feature Set | DCIM IT |
| --- | --- |
| 2D IT Data Hall Visualization | |
| Individual site, site group and global portfolio visualizations | |
| Built-In Charts and Reports | |
| Unlimited Support via phone, email, web share | |
| Unlimited Training via phone, email, web share | |
| Dashboard Widgets | |
| Customizable Dashboards | |
| Online Training Videos | |
| Accurately Measure Cable Lengths | |
| Automated Power Budgeting for Devices | |
| Patented Power Redundancy calculation algorithms | |
| Rack Elevations | |
| IT Device Lists | |
| Space Capacity Management | |
| Power Capacity Management | |
| Cooling Capacity Management | |
| Change Management Checklists | |
| Switch Port Inventory Management | |
| Patch Panel Port Inventory Management | |
| Patch Panel Port Trunk Inventory Management | |
| Cable (port to port) Chain Connectivity Mapping | |
| Switch to Device Cable Connectivity Mapping | |
| Import or Bulk Edit Cable Adds, Moves, and Changes | |
| Import or Bulk Edit Device Adds, Moves, and Changes | |
| Import or Bulk Edit Infrastructure Adds, Moves, and Changes | |
| Model and Visualize Chassis and Blades | |
| Manufacture/Make/Models Template Library | |
| Parts and Spares Management | |
| Power Circuit Tracking | |
| Ticketing/Request Tracking Module | DCIM IT |
| --- | --- |
| User Request Ticketing System and Activity Reporting | |
| DCIM IT Module Feature Set | DCIM IT |
| --- | --- |
| Power Panel and Busbar Tracking | |
| Power PDU Tracking | |
| Power UPS Tracking | |
| Power Generator Tracking | |
| Power Billing Tracking | |
| Power Relationship Mapping and Reporting with Impact Analysis | |
| Switch Relationship Mapping and Reporting with Impact Analysis | |
| Role and Site Based, Granular Permissions | |
| Search and Reserve Capacity | |
| Visual Analytics | |
| What-If Analysis | |
| Work Orders with Port-Level Instructions | |
| Audit Logs | |
| Cost by Data Center, Business Unit, or Service/Application | |
| Energy Billback Reporting | |
| Environment Sensor Monitoring | |
| Health and Risk Alerting | |
| Service Desk DCIM IT Team | DCIM IT |
| --- | --- |
| Daily/Weekly/Monthly Team Meetings | |
| Digital Mirror Infrastructure Moves/Adds/Changes Maintenance | |
| Power Monitoring Analytics (circuits, panels, busbars, PDU's UPS's) | |
| Digital Mirror Automations Management | |
| Digital Mirror Power/Cooling Analytics | |
| Site Personnel Training | |
The InCommand Service Desk Option
InCommand Service desk participate in the customer's daily, weekly, monthly operational and planning meetings.
Service desk personnel continuously deliver training and user support.

Additional self service training is available via streaming videos on the InCommand web portal. Embedded user documentation is accessible from the help icon on portal pages.

The service desk delivers software upgrades on a monthly schedule backed with immediate training and support.
Customer assigned service desk personnel provide:

Weekly analysis of customer data center metrics to evaluate risk potential. Advice on areas that warrant remediation to reduce risks and/or improve efficiencies

Analysis includes cascading failure scenarios and power/network outage impacts

Daily review of monitoring alerts to ensure all monitored points are reporting accurately. Tracking that no unusual power anomalies have occurred in the past 24 hours
Continuously update site infrastructure models resulting from IT and facility infrastructure changes.

Infrastructure changes include:

Moves, adds, and changes to room and rack layouts and capacities
Moves, adds, and changes to electrical single line drawings
Moves, adds, and changes to power circuits, temp, and humidity sensors
Moves, adds, and changes to HVAC units and redundancy designs
Site acquisitions and dispositions