Superior Compliance Program
Capacity

Utility

22MVA

IT

12MW

Building

117,500 sq ft

Halls

60,000 sq ft

Density

200 W/sq ft

PUE

1.3

Cooling

High-efficiency N+1 Hybrid Air Handlers
Connectivity

Telcos

6

MMRs:

2

Cloud

AWS Direct Connect

Carriers

AT&T, Cogent, Crown Castle (Wilcon/Sunesys), Lumen (CenturyLink & Level 3), Time Warner, Zayo
Los Angeles:
Home to Hollywood and LAX1
Lights, Camera, Digital Action! The stars on the Walk of Fame aren't the only stars illuminating Los Angeles. Beyond the glitz and glam of media and entertainment, this well-established, fast-growing market is also leading the way for major aerospace and defense contractors, research and development companies and many top tech enterprises. With Serverfarm's modern Los Angeles data center in the market, enterprises can scale easier with their critical data center requirements met.
LA's booming economy and growing requirements for cloud and digital services has caused a surge in demand for mission-critical infrastructure, colocation, DMaaS (Data Center Management as a Service) and robust connectivity options. The City of Angels is also a vital hub for enterprises looking to expand their reach into markets across the West Coast of the United States and the Asia-Pacific region. With one of the largest populations in the world, LA will continue to reign as a top destination for global enterprises who are on the move, improving customer experience and seeking to boost their competitive edge in this sought-after market.
Mission-Critical Infrastructure in the LA Data Center Market
Serverfarm's LA data center, LAX1, is centrally located in close proximity to the LAX airport, movie production studios, major aerospace and defense contractors, research and development companies and corporate campuses. LAX1 spans 117,500 square feet and boasts 22 MVA of capacity. The LAX1 data center is well connected to Tier 1 and dark fiber providers, offering secure global network on-ramps. As compliance and security continue to move to the forefront for enterprises and healthcare organizations, LAX1 meets all HIPAA, HITECH and PCI compliance requirements. Host to hyperscale, transportation, healthcare and government tenants, LAX1 is enabling transformation at scale.
An LA Data Center For Leading Enterprises
LAX1 is ideal for scaling enterprises because of its rapid deployment options, which can scale quickly in response to this market's evolving demand. In addition, Serverfarm's commitment to data center sustainability enables organizations to help meet their own sustainability initiatives.
This ultra-modernized facility delivers world-leading DMaaS powered by InCommand. From colocation to top connectivity options, LAX1 empowers leading enterprises with the low latency and high bandwidth required to meet their growing cloud and digital demands.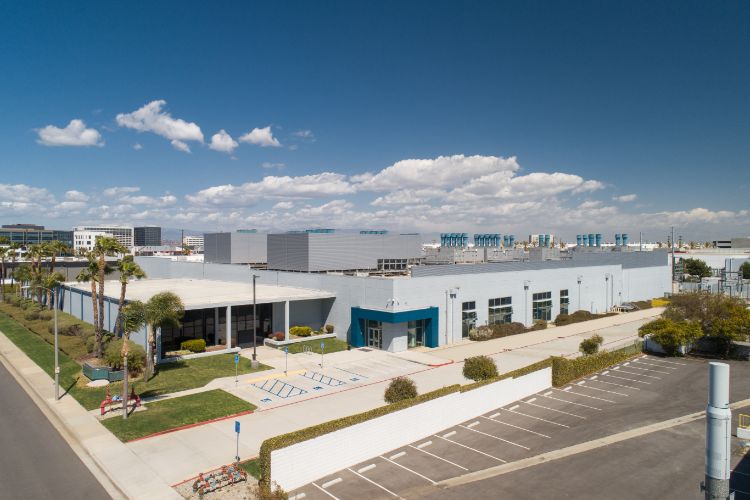 As the global leader in DMaaS (Data Center Management as a Service), Serverfarm offers a robust data center management solution delivered through our award-winning cloud-based platform, InCommand. This DMaaS solution is a fully integrated service overseen and operated by trained experts in data center infrastructure and management.
Serverfarm's DMaas powered by InCommand provides clients with remote access into their mission-critical infrastructure and data center assets. InCommand provides an FM NOC, offering consolidated alerts and alarms to streamline intelligent prioritization and resolution tracking. DMaaS powered by InCommand provides limitless room for clients to scale and innovate.
Serverfarm is doing our part to mitigate climate change, all while meeting our clients' increasing capacity demands, by choosing to acquire and modernize existing facilities rather than build new. Reusing existing real estate helps to eliminate the carbon emissions required for a standard new construction building, resulting in a modeled 88% embodied carbon emission reduction. Buildings and construction directly represent around 39% of all annual global greenhouse gas emissions, so reducing the carbon produced by developing new buildings is an essential component to mitigating our global climate crisis.