Moving mission-critical IT infrastructure to a data center and choosing which colocation services to trust usually forces enterprises to compose a tally sheet of pros and cons. If you save on price, will you forfeit sustainability? Will the company gain control, but then lose flexibility? Will management processes be streamlined at the cost of convenience?
Many colocation data centers are on the market, but Serverfarm's suite of colocation solutions stands out because it makes those questions irrelevant. Finally, you can achieve operational efficiency AND reduced costs, high-touch AND large-scale deployments, speed AND agility – even data center AND the cloud. That's because we don't just offer colocation data centers, but rather, true Data Center Management as a Service (DMaaS) that helps your team focus on innovation over infrastructure.
No matter the size or complexity of your deployment, Serverfarm has the modern data center colocation services that every enterprise needs. Our customized colocation facilities are designed to handle the most demanding high-performance environments. Throw away the tally sheet.
When it comes to colocation,
we offer:
Ticketing, data and analytics portal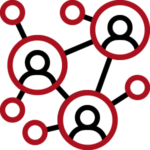 Excellent network connectivity