EU Data Center Code of Conduct (EU COC) 2022 guidelines and what should Colo operators and their customers should do next.
Read the 2022 Best Practice Guidelines for the EU COC on Data Center Energy Efficiency here.
This year the European Commission issued its 2022 Best Practice Guidelines for the EU Code of Conduct on Data Centre Energy Efficiency.
Part 1 of this 2-part blog series explored the guidance provided on how best to organize different disciplines within a data center and the importance of making informed decisions by using the right tools.
Here we go deeper into how data is at the heart of the practicalities of operating a modern data center to the highest standards.
And in the end, it is about data. The EU COC Best Practice Guidelines 2022 says: "Ensure that high quality, accurate O&M manuals, As-Built records, commissioning records, schematics and single lines diagrams are available in order to enable all installed infrastructure and equipment to be maintained as originally designed and operated at optimum levels of efficiency. Accurate documentation and records are essential to the correct operation and use of energy efficiency functions built-In by equipment manufacturers. Updates should be made whenever any settings are changed or equipment is added, replaced or modified. Historical records should also be kept. Effective commissioning and delivery of detailed and accurate documentation should be a key part of any project handover."
As part of the modern management and operation of physical data centers, InCommand cloud-based data center management as a Service (DMaaS) details MEP asset lists, MEP maintenance schedules, MEP servicing vendors and MEP maintenance.
Sustainability and Efficiency – What Customers Want
The EU COC report says: "Separate environmental zones – Colocation or Managed Service Provider Customers requiring extremely tight environmental control or items such as legacy equipment should not compromise the entire data center for specific items of equipment".
Serverfarm's InCommand DMaaS platform has monitoring tools designed enable equipment to function according to client standards which complete particular tasks while maintaining data center workload integrity and driving efficiency.
The EU COC report says: "It is important to develop a holistic strategy and management approach to the data center. This will enable the Participant to effectively deliver reliability, economic, utilization and environmental benefits.
Operators must consider implementing control systems which can manage multiple data center assets to optimize cooling load, data floor air and external air temperature in real time for sustainability strategy."
What InCommand DMaaS Does
Inside its own Colo data centers, Serverfarm InCommand measures power utilization by customer across the UPS, PDU, panel, circuit and rack. It provides IT power/space/cooling planning algorithms.
It handles IT moves/adds/changes ticket tracking and approvals at all levels. To provide resilience planning, InCommand issues power outage impact reports and switch outage impact reports. It can even be used to track IT storage and IT equipment lifecycle. The InCommand platform features list is unrivalled in the DMaaS market.
InCommand DMaaS combines three key areas: trained experts, proven processes, and a highly intelligent portal to give enterprises greater control of their IT and facilities infrastructure. This 3-legged stool approach offers a complete DMaaS solution that goes beyond standard DCIM solutions. InCommand DMaaS takes all physical assets in IT, facility and data center environments and presents them as a virtualized service.
Winner of multiple innovation awards, InCommand DMaaS combines data center management expertise with an evolving cloud-based software solution to maximize enterprise infrastructure asset utilization and efficiencies.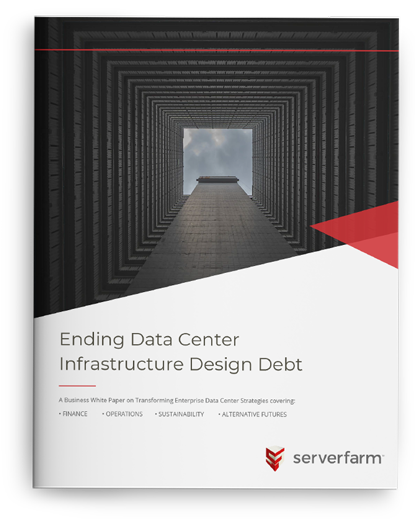 Read the Serverfarm White Paper: Ending Data Center Infrastructure Design Debt
A business white paper on transforming enterprise data center strategies covering finance, operations, and sustainability.