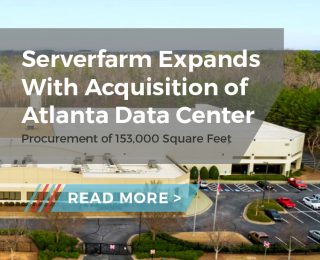 Procurement of the 153,000 Square Foot Atlanta Data Center Provides Regional Center to Serverfarm Colocation Portfolio
December 5, 2017 | Atlanta, GA
Server Farm Realty, LLC (Serverfarm), one of the nation's most innovative, privately owned data center developers and operators, today announced it has acquired the 305 Satellite Blvd data center complex in Suwanee, Georgia. The acquisition is Serverfarm's first in Georgia and adds to its growing data center portfolio of more than 1 million square feet in seven U.S. markets. The Atlanta-area data center provides Serverfarm with a solid existing network ecosystem and additional wholesale data center inventory in Georgia.
"Our goal is to help our customers manage everything physical in the digital world so they can focus on their core business," said Avner Papouchado, CEO of Serverfarm. "305 Satellite Blvd will provide an exciting opportunity for Serverfarm to enhance the business of existing and new clients." 
Atlanta Data Center Acquisition Highlights:
The Atlanta data center adds to Serverfarm's growing North American data center portfolio, which also includes facilities in Moses Lake, WA; Santa Clara, CA; Chicago, IL; Charlotte, NC; Oak Brook, IL; and Toronto, ON
Serverfarm is a data center construction and operations expert organization focused on IT and facilities management. Our mission is to maximize data center and IT infrastructure efficiencies by providing a complete approach to managing data center environment and IT deployments.