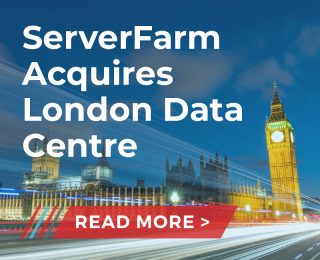 European data centre acquisition provides strategic asset to Serverfarm's colocation portfolio.
LONDON, UK
Server Farm Realty, LLC (Serverfarm), a multi-national leading data centre owner and operator, announced today it has expanded its portfolio through the acquisition of an 8MW data centre located in Feltham, London, UK. The London data centre is Serverfarm's first European property adding another 120,000 square feet to its existing data centre portfolio of more than 1 million square feet. The data centre provides Serverfarm customers with a strategically important entry into a vital data center market.
"We are excited to add this property to our portfolio in order to serve the growing needs of our clients in this market. Through Serverfarm's operational expertise we provide exceptional value for customers and easy entry to the London ecosystem," said Jim Shanahan, VP of Global Operations for Serverfarm. "Our quick-to-market deployments create a dynamic opportunity for businesses, and we have already added several new customers into the data centre." 
Close to Heathrow airport, the London data centre is strategically located with direct connections to Slough and London's Docklands. It adds to Serverfarm's growing global data center portfolio, which also includes North American facilities in Moses Lake, WA; Santa Clara, CA; Atlanta, GA; Chicago, IL; Charlotte, NC; Oak Brook, IL; and Toronto, ON.
To learn more about this DC, click below.