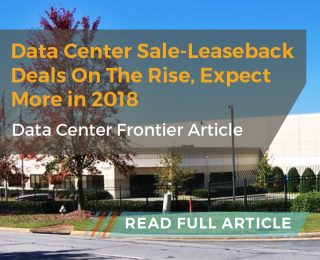 Article by Rich Miller, published December 12, 2017 in Data Center Frontier
The rise of the service provider and the decline of the enterprise data center are intersecting in the sale-leaseback, a real estate strategy that provides benefits for both parties. Industry executives says 2018 is shaping up as a big year for sale-leaseback deals, due to the increased number of properties available and more service providers embracing the strategy as an attractive way to expand into new markets.
In their most recent deal, Serverfarm acquired a 153,000 square foot facility in Suwannee, Georgia that had been owned by Advanced Micro Devices (AMD).
"By using sale/leasebacks we utilize our real estate and operational expertise to liquidate hard assets," said Avner Papouchado, CEO of Serverfarm. "In other words, we cloudify legacy data centers, and therefore, bring agility to the physical assets in the IT stack. At Serverfarm we believe in long-term partnerships."