Superior Compliance Program
Capacity

Utility

38MW

IT

20MW

Building

8-story - 443,000 sq ft

Halls

130,000 sq ft

Density

150 W/sq ft

PUE

1.4

Cooling

Central water cooled chiller plant with waterside economizers
Connectivity

Telcos

13

MMRs:

2

Cloud

AWS, Azure, GCP

Carriers

Zayo, XO, Level 3, CenturyLink, AT&T, Verizon, US Signal, Crown Castle, Sunesys, Cogent, Windstream, Packet Fabric, Peerless Network
We've all heard "The Windy City" and "Chi-Town," but did you know that Chicago is also called the City of Big Shoulders? And it carries a fully modernized Chicago data center colocation environment – Serverfarm's CH1 at 840 South Canal Street – that lives up to that description.
Chicago is the nation's third most-populous city and home to some of the countries' largest Fortune 500 companies. In addition, the Chicagoland area is at the nexus of major technology centers, including Illinois Technology and Research Corridor, the University of Chicago, the Fermi National Accelerator Laboratory, the Illinois Institute of Technology and other incubators that specialize in research, logistics and development. So it's no surprise that the Chicago data center market is routinely listed as one of the top five in the U.S.
Superior Scalability & Connectivity
Serverfarm CH1 enables large edge computing interfaces with sustainable power for cloud-scale operators, reliable connectivity for global service providers and low latency connections for major finance houses in Chicago. With diverse vertical markets such as healthcare, manufacturing and technology operating at scale in Chicago, CH1 provides power, space and support to meet the needs of every enterprise. And an impressive amount of power at that – the facility offers utility power provided via 12 diverse feeds originating at four separate substations.
Ideal For Scaling Enterprises
CH1 is ideal for growing enterprises because of its capital-efficient initial deployment options, which scale quickly in response to demand. In addition, Serverfarm's commitment to sustainability is critical here. Not only does Serverfarm's business model of modernizing data centers create sustainable capacity, but the Windy City location also provides flexible power provision, maximized efficiency and direct access to renewable power generation.
CH1 offers a rare bonus: direct access to multiple metro-level entrances and two long-haul fiber network tunnel ducts located 55 feet below Canal Street.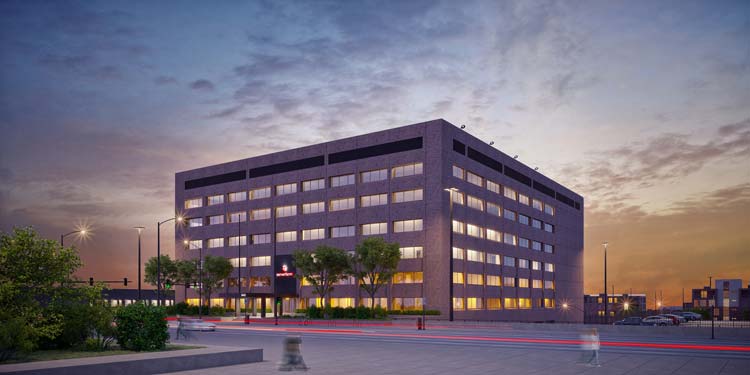 As the global leader in DMaaS (Data Center Management as a Service), Serverfarm offers a robust data center management solution delivered through our award-winning cloud-based platform, InCommand. This DMaaS solution is a fully integrated service overseen and operated by trained experts in data center infrastructure and management.
Serverfarm's DMaas powered by InCommand provides clients with remote access into their mission-critical infrastructure and data center assets. InCommand provides an FM NOC, offering consolidated alerts and alarms to streamline intelligent prioritization and resolution tracking. DMaaS powered by InCommand provides limitless room for clients to scale and innovate.
Serverfarm is doing our part to mitigate climate change, all while meeting our clients' increasing capacity demands, by choosing to acquire and modernize existing facilities rather than build new. Reusing existing real estate helps to eliminate the carbon emissions required for a standard new construction building, resulting in a modeled 88% embodied carbon emission reduction. Buildings and construction directly represent around 39% of all annual global greenhouse gas emissions, so reducing the carbon produced by developing new buildings is an essential component to mitigating our global climate crisis.