Expands Commitment to Sustainable Data Center Services
Serverfarm has committed to support the clean Energy Associations Cloud Buyers' Principles known as the The Future of Internet Power (FoIP) initiative.
Clean Energy Buyers' Association (CEBA) members are a coalition whose aims are to power the internet with 100% clean energy.
As a signatory of the Cloud Buyers' Principles, Serverfarm is committed to following the principles and taking action to reduce emissions in the industry.
"We believe in aligning the partnership between the customer and service provider so that both parties have an incentive to reduce energy consumption. Moreover, Serverfarm provides options for customer collaboration on efficiency and clean energy enhancements using InCommand DMaaS, our combination of data center infrastructure management tools and experts to manage deployments as efficiently as possible," says Avner Papouchado, CEO of Serverfarm LLC.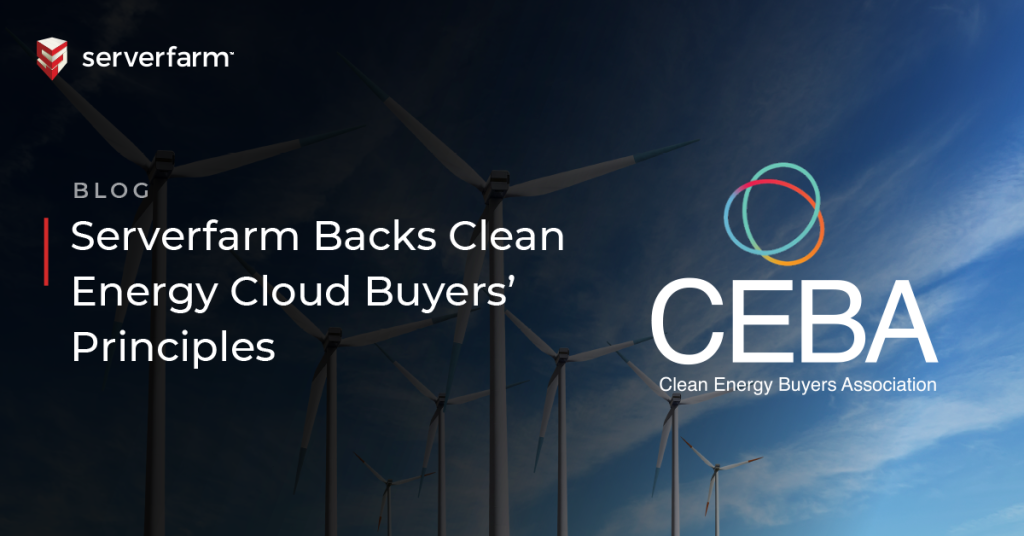 Collaboration: Serverfarm is fully committed to Collaboration. In March 2023 at Data Centre World London, Arun Shenoy, SVP and CMP Serverfarm led a discussion on Ending data center and IT operations silos to cut carbon.
Data: Serverfarm's InCommand DMaaS helps manage and monitor and manage 450 data centers across the globe providing real time accurate data on power consumption to inform sustainability and clean power strategies.  
Advocacy: Serverfarm's senior management team in operations, engineering, and commercial regularly produce thought leadership articles in the industry press, whitepapers, and studies to promote best practice for customers and peers.
The company is committed to disclosure and providing customers with Options and Incentives to source clean energy while supporting all efforts and maximize efficiency and power utilization. Serverfarm recognizes the importance of providing options powered by clean energy resources that reduce emissions.
As data centers continue to use at least 1% of the world's electricity, it is essential that data center providers and customers work together to find collaborative strategies for energy management and clean energy procurement to reduce emissions and hit sustainability targets.
As a supporter of the Cloud Buyers' Principles, Serverfarm is taking an important step towards a more sustainable future. We are committed to working with our customers to find innovative solutions for energy management and clean energy procurement across their portfolios.