Is the DCIM software market in its death throes? Arun Shenoy, SVP Sales & Marketing for Serverfarm, discusses the latest on Data Center Management as a Service (DMaaS). Originally published on The Tech Capital
Markets consolidate for many reasons.
Often when the software market changes, a product of the consolidation is acquisitions. Such acquisitions can follow a similar pattern. Installed base customers are reassured about product support and road maps. Cultural and process integration of the acquired business can be difficult. Rationalization of resources and staff redundancies follow.
There is a history of acquisitions in the DCIM market. Some are more successful than others.
One recent acquisition was announced the same week that Vertiv (formerly Emerson) exited the DCIM market with the cancellation of Trellis. When Trellis launched in 2012, it was a major bet by power infrastructure giant Emerson (Emerson Network Power has since rebranded as Vertiv).
New markets are difficult to conquer, and in the fast-moving software world, the race does not always go to those quickly out of the blocks.
The promise of the 100 or so boutique DCIM companies and the big plays by the global infrastructure players has too often left a trail of dissatisfied customers.
Dissatisfaction with DCIM came from many quarters. Firstly, functionality and features were overplayed, complexities and data management underplayed. As a model, the goal for product companies trying to be software players and for start-up software developers was to land, expand and lock-in data centers.
Serverfarm has previously pointed out that for data center management, supplying a product is not the solution. In data centers, 'software tools badly wielded by under-qualified practitioners are useless or worse.'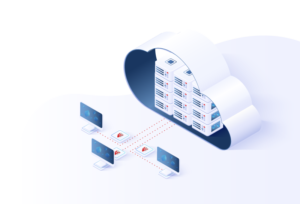 From a Cloud, as a Cloud, for the Cloud
As we now know, the software market has changed utterly in the last decade. Software is now in the cloud and labeled 'as-a-Service.'
When DCIM arrived, no one was talking about cloud-based solutions and certainly not about continuous iterations. DCIM was built on waterfall development, more often a trickle than a cascade, with updates and upgrades that happened in annual or 18-month cycles. Even then, the focus was on upselling users with new modules.
DC owners were sold software on a good old-fashioned perpetual license basis. There were many questions, and too often, DCIM proved to have few answers.
In the case of DCIM, market rationalization is a tale of unfulfilled promise. This is because, in the complex world of data center management, products are not solutions. But the need for automation, data and management of data centers has not disappeared. In fact, the requirement is greater than ever.
Hence, DMaaS.
DMaaS: Clear, Cloud and Large Advantages for the User
Being cloud-based means, it is the supplier, not the user, who is responsible for controlling and managing the software. For the supplier, it is a platform service provision play.
Whether the user is happy is a product of the quality of the service is based on the quality, speed, and accuracy of the data and how quickly that it can be used to inform actions. And how it produces intelligence to guide strategies.
DMaaS is the future of data center management and automation. With DMaaS, customers can avoid the pitfalls of DCIM.
But, remember, not all DMaaS is created equal. Beware of products masquerading as solutions.
For more insight on DMaaS, listen to our Future of Data Centers DMaaS-focused mini-podcast series here.