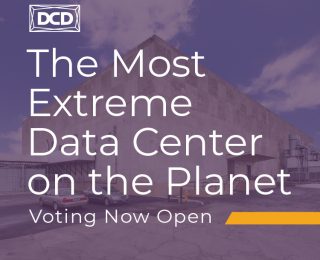 Our Moses Lake location was nominated for the DCD Awards as one of the most extreme data centers on the planet. Click here to vote. A public online vote will determine the winner of the 2018 award The Most Extreme Data Center on the Planet. 
DCD Awards 2018 // Most Extreme
Each year, DCD's industry awards invite the industry to nominate the best projects, teams and practitioners in the world, and a team of judges decides on the winners. Last year we asked our readers to decide one category themselves, and it was an interesting experience.
In 2017, the voting category was Beautiful Data Centers. Readers contacted us to nominate facilities which not only did their job, but added looking good into the bargain. The winner was a supercomputer in a medieval church.
This year, we'd like you to tell us about extreme data centers: facilities that operate from places no one would expect, like in outer space, a battlefield, or the Arctic wastes; or sites which have some ability which makes them tougher or harder than any other.
To start the ball rolling, here's a a short list of suggestions, featuring nuclear bunkers, bomb proof sites, and data processing in hot climates and high altitude.
The data center at Moses Lake, Washington, was a command center for the US Titan missile defense program, and was designed to withstand a 10 Megaton detonation a quarter of a mile away. This bomb-proof behemoth was built to maximize security, resilience, utility and spend. Ideal location for web-scale and disaster recovery platforms with low risk of natural disaster, high desert climate, and it also has low-cost renewable power, with 85 percent of its needs supplied by hydroelectric dams on the nearby Columbia River.
Learn more about our Moses Lake facility here.
Click the link below to vote.