Listen to our podcast episode on "What is DMaaS?" to learn more
Serverfarm data centers are the natural home for Hyperscale and 'as a service' software regions as global IT spend rises.
Gartner forecasts total IT global spend for 2022 up 3% from 2021 at $4.5 trillion.
Events such as the Covid 19 pandemic, war in Ukraine and inflation have pushed the global digital infrastructure sector to rapidly increased spending to meet the enterprise shift from ownership to service.
The analyst firm said spending is pushing more servers, storage and networking into purpose-built data centers. The forecast shows surging investment in data center IT and cloud infrastructure.
Both are driving demand for Serverfarm's data centers.
Gartner says "Cloud spending grew 18.4% in 2021 with expected growth of 22.1% in 2022. This is driving spending on servers to 16.6% growth in 2022, as Hyperscalers build out their data centers."
Spending on data center systems [server, storage and network equipment] will experience the strongest growth of all segments in 2022 at 11.1%.
Cloud consulting, implementation and cloud managed services are to grow from $217 billion in 2021 up to $255 billion in 2022, an increase of 17.2%. Worldwide software spending will reach $806.8 billion in 2022 and global spending on all IT services is forecast to reach $1.3 trillion.
Table 1. Worldwide IT Spending Forecast (Millions of U.S. Dollars)
Cloud Spending
IDC's 2021 cloud spend breakdown showed growth across every segment. Its cloud spending report 'Worldwide Public Cloud Services Revenue and Year-over-Year Growth, Calendar Year 2021' reported that IaaS (Infrastructure as a Service), SaaS (Software as a Service), and PaaS (Platform as a Service), all grew quickly.
The top 5 public cloud service providers Microsoft, Amazon Web Services, Salesforce Inc, Google and SAP own a combined 40% of the total public cloud spending and growing 36.6% per year, it says.
The overall public cloud services market grew by 29.0% in 2021. Foundational cloud services such as IAAS, PAAS, and SAAS which are all designed to support digital-first strategies had a 38.5% revenue increase, says IDC.
Deployment Category
Iaas
Saas-Application
Saas-System Infrastructure Software
Total
2021 Revenue (revenues in US$ billions)
$91.3
$68.2
$177.8
$71.2
$408.6
The numbers show that across the world, Hyperscalers and big software clouds are experiencing rapid growth and are investing in IT and data centers.
The numbers are impressive, yet there remains huge opportunity.
Mind the gap
The $4.5tn is a global ICT spend figure and covers a long list of digital technology.
From an enterprise perspective the interesting part is the gap between $4.5tn total spend and $400bn of cloud spending.
It reveals that there are literally trillions of dollars of enterprise IT spend that have yet to migrate to the cloud or be hosted inside commercial data center environments – by either moving there directly or via a cloud platform migration.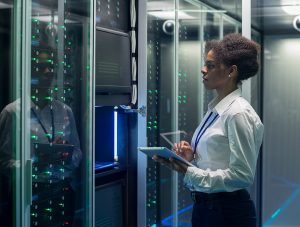 The numbers tell us that the Hyperscalers and giant 'As a Service' application providers are continuing to expand their hosting capacity and operational efficiency to match client requirements for shared and dedicated space – be it virtual or physical.
That's where Serverfarm's modern, efficient, sustainable data centers backed by InCommand DMaaS come in.
Conclusion
Serverfarm provides the best of both worlds with its InCommand DMaaS cloud-based platform solution monitoring any data center system remotely across M+E infrastructure and IT assets. InCommand DMaaS combines data center infrastructure management with machine learning and human expertise to deliver critical analytics. This data collected from IT workloads, strategic deployments, capacity utilization and energy usage are maximized to save on capital expenses.
Serverfarm's data center development strategy focuses on refurbishment and modernizing strategically located facilities alongside sustainable data center developments and green energy transition thus enabling Hyperscalers and large SAAS, IAAS and PAAS providers to save on capital expenditure and carbon cost.
See Serverfarm's data centers.
Learn more about Serverfarm InCommand DMaaS.
InCommand DMaaS - Explainer
InCommand DMaaS is a data center management as a service to better manage your data center. How does it work? Watch this video to find out.