Capacity's annual Power 100 listing. This global index is made up of 100 of the most influential people in the wholesale carrier community.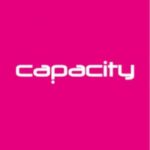 Capacity's Power 100 – Avner Papouchado
Founder and CEO – Serverfarm
A pioneer of data centre management as a service, Papouchado combines real estate acumen with a strategic understanding of data centre. His focus is on automating IT management, environmental sustainability and level setting balance sheets. Last year, Serverfarm added 14MW to its Toronto data centre – reusing the structure to cut embodied carbon 75% – and updated its InCommand platform.