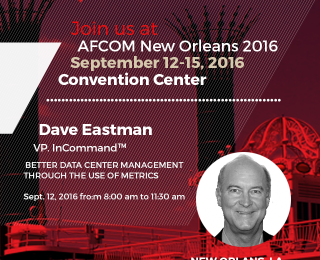 Connect with the Server Farm team at AFCOM's Data Center World in New Orleans, September 12-15th. Let us know you're going to be there so we can set up a time to show you how we're helping companies optimize their data centers and maximize their capacity planning.
Dave Eastman, VP InCommand Services will also be speaking at the following sessions:
BETTER DATA CENTER MANAGEMENT THROUGH THE USE OF METRICS II (PANEL SESSION)
Monday, September 12, 2016: 8:00 am – 11:30 am
Room: R206
Session Number: AAP 1
Track: All Access Pass
DESCRIPTION
Understanding how your data center is performing relative to metrics facilitates informed decision-making and reduces risk, and improves prioritization of needed actions. This session will show you how to optimize the management of your data center leveraging metrics. Metrics addressed will include: facility focused – space (horizontal and vertical), power, and cooling as well as the correlation amongst them; operationally focused – service levels, workloads, and staffing; and financially focused – energy, initial investment, and total cost. Join us and see how your data center and your operations stack up!
USING DCIM FOR DATA CENTER AND COLOCATION MOVES (PANEL SESSION)
Monday, September 12, 2016: 1:00 pm – 2:00 pm
Room: R206
Session Number: ITOM 12.1
Track: IT Operations Management (ITOM)
DESCRIPTION
This panel discussion focuses on eliminating common mistakes when moving or migrating to another data center or colocation facility. You will learn how to successfully move mission-critical applications and servers, and storage and network gear with intricate cable configurations. We'll also examine key steps involved in successfully migrating a data center from one location to another, and how DCIM can help facilitate a move.
IT'S EMERGING ROLE IN DATA CENTER OPERATIONS AND MANAGEMENT
Thursday, September 15, 2016: 10:20 am – 11:20 am
Room: R208
Session Number: ITOM 20.4
Track: IT Operations Management (ITOM)
DESCRIPTION
It used to be that the data center was really IT's server house yet facilities' job to manage and maintain it. That's certainly not the case today! Every IT device plugged in changes the data center power and cooling equilibrium and threatens to take it out of balance, and/or breaches real and redundant power thresholds. If not done wisely the risk of outages increase substantially and the risk of stranding power, cable and cooling capacities is virtually assured. So what is IT's emerging role? In this session you will learn what IT needs to know about data center power and cooling equilibriums, what involvement IT should have in daily operations, and where IT and facilities teams need regular collaboration in order to effectively operate data centers.