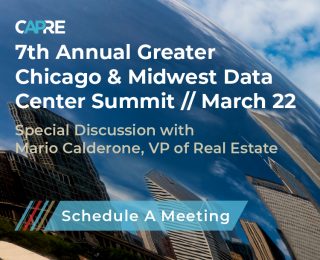 Server Farm Realty, LLC, an expert data center real estate and operations organization focused on making physical agile, announces today that Mario Calderone, VP of Real Estate, will speak at CAPRE 7th Annual Greater Chicago Midwest Data Center Summit. This event will be taking place March 22, 2018, in Chicago, Illinois. At 4:00 p.m. CST, Mr. Calderone will be part of a discussion panel talking about what types of debt and equity sources will become more active in 2018. 
At Serverfarm, Mr. Calderone is responsible for all aspects of the commercial real estate portfolio including acquisitions, leasing, management, financing and disposition. A seasoned real estate industry professional, Calderone has an established track record of successful value-creation across a broad range of investment assets.
Discussion: "What Types of Debt and Equity Sources Will Become More Active in 2018?"
Holiday Inn Mart Plaza River North – Chicago, IL
Thursday, March 22, 2018 – 4:00 p.m. CST
Mario Calderone, VP of Real Estate, Serverfarm, and others
Proposed Discussion Points:
Serverfarm is a unique data center company whose mission is to maximize data center and IT infrastructure efficiencies by providing a holistic approach to building, integrating and managing data center environment and IT deployments. We provide complete data center oversight from facility to IT infrastructure management, which enables our customers to concentrate on growing their businesses. If you are interested in learning more, click the link below to meet with us in person.