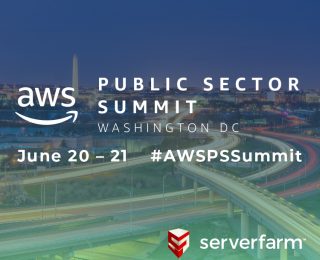 Serverfarm is a global expert in data center real estate and operations. We are a unique data center provider whose mission is to maximize data center and IT infrastructure efficiencies with a holistic approach to building, integrating and managing data center environment and IT deployments. For more than seventeen years, our team of experts have been providing exceptional service to the industry. Today we announce our VP of Sales, Arun Shenoy will attend AWS Public Sector Summit in Washington DC taking place June 20-21. At this event, global leaders from government, education, and nonprofit organizations will come together to discuss how to use the cloud for complex, innovative, and mission-critical projects with over 100 breakout sessions led by visionaries, experts, and peers.
We are looking forward to seeing you there and talking about our colocation opportunities and ways to transform your data center with InCommand™.
Gain Control of Your Data Center with InCommand
With Serverfarm's focus on stability, flexibility and affordability, the company meets all of its customers' physical infrastructure needs by delivering the following word class services:
Serverfarm's InCommand services team will do the legwork to capture, model and maintain your physical layer assets so you can focus on your virtual world.
Follow Serverfarm on social media as we attend this summit with the hashtag #AWSPSSummit
To schedule a meeting, please click the button below.